Science in the Public Interest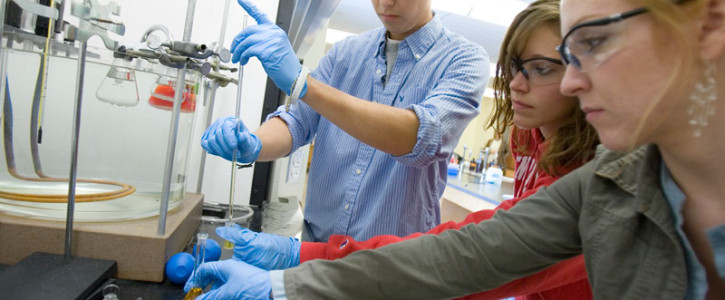 Posted April 13, 2011
---
Listen to this blog post:
Science In The Public Interest
---
I was never encouraged to study science. It's a disappointment I carry to this day. I really don't know why this was the case for me. It's true my family was not particularly oriented toward science. In fact, I don't know anyone in my immediate or extended family who has an educational or professional background in science. I recall the teachers I had in secondary school for science classes were not very inspiring. In my experience, science was mostly about memorization. I do remember dissecting a frog in biology class, but that's about it. I also had an earth science teacher who was entertaining as a lecturer, but there was little for me to do beyond listening, recording and remembering – at least for the test.
Today I am working to increase my scientific literacy. I actually find science quite interesting. I noticed a rekindling of my desire to learn more as our daughters needed help with homework over the years. This allowed me a chance to read some text and recall a few basic principles about energy, weather or anatomy. I also have noticed when I have some down time, I enjoy watching a bit of "science" television on channels that explore interesting topics about the universe or various settings in nature. I don't remember a lot as time passes, but I am enjoying a renewed curiosity.
In a recent report entitled, "Increasing Scientific Literacy: A Shared Responsibility," G. Wayne Clough, Secretary of the Smithsonian Institution, outlines the challenges our nation faces in increasing our understanding of science. He writes:
Without scientific literacy, both in today's adult population and in generations to come, our nation stands to lose its ability to compete on a global scale. The future of our youth depends on their fluency in science in a world where employers seek well-educated, well-rounded individuals. (p. 1)
These are strong words but I think he has a point. The world has become so much more complex and the demand for knowledge, skill and experience incredibly high. Clough also notes:
Changing times present us with a conundrum. Today, science and technology form a global enterprise fueled by billions of dollars from governments and industry and driven by a growing army of researchers. Our ability to survive as a society depends in large part on the innovations brought about by scientists and engineers, whose past work has dramatically improved everyday life in most of the developed world. And yet the public is growing uneasy about the same enterprise from which it benefits so greatly. The sheer volume of scientific knowledge has triggered the viral growth of specialization, dividing that knowledge into smaller and smaller pieces understood by fewer and fewer people. With communications moving at warp speed and computing power reaching mind-boggling proportions, the pace of technological advancement threatens to overwhelm us. (p. 46)
I would take it one step further. I wonder if the complexities of science and technology are yielding an intimidating or mystifying effect on the wider population – particularly adults. I know I benefit from advances in medical science, digital communication and energy, but my understanding of the underlying knowledge domains is quite limited. Some might argue the lack of knowledge is irrelevant and I should just enjoy the fruits of scientific discovery. Yet if I don't understand something about how these elements of science, engineering, technology and math connect, then my capacity to participate in the public discourse will erode. When I wish to voice my view on funding priorities for our nation, how do I know that investments in science make sense? If there are ethical choices to be made, how do I frame my understanding about what is appropriate? If there are societal tradeoffs to be assessed in the future development of science and technology, how can I prepare an informed opinion? If my knowledge erodes too far, I may not be able to effectively contribute to the dialogue and will need to rely on the opinions and influence of others. If this happens, will I become marginalized in society along with a host of others who lack scientific literacy?
This is where colleges come into the picture. Our role in the education of undergraduates is obvious. A strong liberal arts education will always include science as part of general education. To our credit, the teaching of science has become far more experiential in recent years as scientists have emphasized the importance of "doing" science, not just studying science. There is no substitute for experience that takes the lecture into the lab and the field. Learning strategies in science now focus on problem-solving as a means for teaching complex ideas as teams of students seek to find answers through scientific discovery in a shared experience.
Science is also integrating disciplines that have been fragmenting for decades with the expansion of knowledge. The lines between biology, chemistry, psychology, neuroscience, mathematics, computer science and physics are blurring as never before. The new frontiers of the human genome and the emerging possibilities of the nanoscale are the next horizons of integration for many disciplines. The reach upward into space may give way to new depths of knowledge in the oceans of our planet. All of science will be needed to chart a course into this future.
As science and technology continue to extend our human potential, our calling as educators is to enable everyone to learn and grow as new patterns emerge and societies change. We dare not leave anyone behind. We need to enhance our approaches to teaching science to children in ways that will engage and inspire their sustained interest. As they mature into our colleges and universities, we need to be prepared with learning environments that will greet them with advanced opportunities.
What about me? I don't want to be left behind either. As a baby boomer gradually joining the ranks of the more senior in our society, I have the desire to learn and understand more. What can I do to extend my scientific literacy? What role can a college play in helping me? It may be an uphill climb, but is anyone willing to join me?
About the Author
I'm the lucky individual who carries the title, 21st president of Central College in Pella, Iowa. Passionate about higher education and the issues facing it and the world today, I hope to invoke an engaging conversation with all who are ready to dig in, make a difference and build for the future. Share your thoughts. I'm listening and interested.
Comment
18 responses to Science in the Public Interest