The Journey
Endicott, N.Y., in the 1960s was a great place to be a kid. The neighborhood was safe, friendly and carried the values of small town America. The streets were paved with progress derived from industrial growth. The town was the birthplace of IBM, Endicott-Johnson Shoes, and the GAF plant was in nearby Johnson City. To young eyes these were symbols of significance for a community rich with pride and opportunity.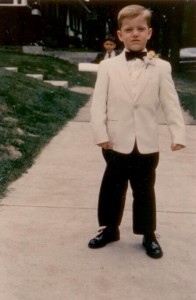 More important to me was the river. The Susquehanna River flowed across the street from our home. A steep river bank protected the local streets from flooding and there was no limit of fun for those of us who spent days exploring, building forts and practicing with a slingshot. The schools, library, downtown and Boys Club were all a short walk or bike ride away. There was a strong sense of place with everything nearby, including Paul's Market where candy and ice cream treats were a-plenty, and the owner called all the boys, "Butch." Our church was a block away, and given the amount of time I spent there, I was convinced I had been born in the nursery.
Growing up in that place did a great deal for me. It taught me about relationships. As kids, we were often on our own, learning from each other, coping with conflict and finding ways to get along. It taught me a sense of independence as I was expected to care for myself and help others. Yet as I grew I realized the complexities of life are reserved for us as we mature and I found myself trying to understand differences.
In all my childhood years, I can only remember one family in our area that was from an ancestry different from my own. Human difference at that time and place was limited to the tensions between Catholics and Protestants. I didn't understand the issues, but knew I needed to be a bit careful about how I interacted with people in certain settings. It was my parents who demonstrated something different, planting a seed in my heart and mind to do one thing — accept others just as they are. They consistently embraced others with love and compassion. Backgrounds didn't matter to them. They weren't perfect at this, but given the realities of the time, they established a pattern in my attitudes and behaviors that I cannot escape as I see and interpret the current world through lenses I was given as a child.
I also grew to understand that there are differences among people based on wealth, or the lack thereof. No one told me we were poor. I never felt I lacked for anything during my early years. It was another quality of my parents who instilled in me a desire for simplicity that stays with me today. By the time I became a high school student I realized we lived in the most run down house in the neighborhood. My parents never owned a home. We lived in a rented apartment in the upstairs of a large home that was the only place I knew through these years. What made a difference for me was that others reached into my life, along with my parents, to bring opportunities my way. One day I returned from school to find a man I knew at the Boys Club sitting at our dining room table speaking with my mother about an opportunity for me to go to the local day camp in the summer. It was years later that it dawned on me I was in a socio-economic category where those outside my immediate family would seek to respond. The same was true with our church friends who did so much to offer me broader experiences.
I never planned to go to college. It was one day in high school that a guidance counselor saw me passing by his office and stopped me to say, "You should go to college." That simple word of encouragement opened my mind to a set of opportunities I had never seriously considered. Likewise, a gym teacher one day after class said to me, "You should play soccer." This was the only time I had been invited to play on a real team and learn from a real coach. The encouraging voices of people who have influence can have an impressive impact on a young life.
My college experience placed me on a campus near New York City. With the benefit of substantial financial aid I began to explore the world on a whole new level. For the first time I was beginning to encounter people vastly different from me. We lived in the same residence halls, attended the same classes and shared a pathway of self-discovery. It was a time for me to challenge what I thought I knew about people, to re-affirm some ideas, reject others and discover that my view of humanity was far too limited by stereotypes and inexperience. I love the college setting, and it would appear that I have not been able to escape it.
Nearly three decades of living among students and having their needs and interests in mind has simply reinforced what I learned as a kid. Students need a place they can roam, find independence, resolve conflict and work with others. They need people who can reach into their lives with gentle guidance and the suggestion of things they might find beneficial. They need to confront human difference and diversity and learn through the eyes of others. They need intellectual, social and spiritual development that will enable them to be great citizens of this country and the world. They need an environment that will challenge and support them as they try, fail, recover and succeed.
This is why I am here. I get to do this…everyday.