About Mark
Mark Putnam, the 21st president of Central College in Pella, Iowa, has more than 35 years of experience from various vantage points in higher education. He can be reached directly at president@central.edu or 641-628-5269.
Professional Experience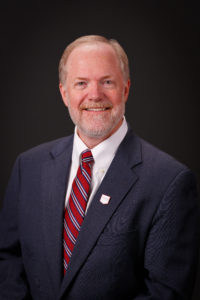 Mark Putnam is in his 13th year as president of Central College in Pella, Iowa, a private, residential, liberal arts college founded in 1853. Central provides a highly relevant and deeply engaging education integrating a broad-based curriculum in the arts and sciences with professional and experiential learning. The college prepares students to be effective citizens in the communities and organizations they serve by opening minds and doors for all.
Under Putnam's leadership, Central has raised $74-plus million in donations and completed major expansions and renovations of the college's arts, athletics and student center facilities, and Peace Mall in the heart of campus. In addition, he has helped the college expand offerings to include an engineering major, leadership and career-readiness programming and student-faculty research while also deepening the college's collaboration with Pella and Central Iowa. In 2019, Putnam guided the college through a highly successful, nationally recognized rebranding initiative that combined a historic adjustment in annual tuition fees with new programming and record-breaking scholarship fundraising. He also successfully led the college through the COVID-19 pandemic with students residing on campus and attending classes in person all while having a heart for others.
Putnam is active in advancing educational opportunity and promoting economic and community development. He chairs the board of directors of the Iowa Association of Independent Colleges and Universities. He was appointed by the Governor of Iowa to the Iowa College Student Aid Commission and to the Future Ready Iowa Alliance executive committee. He is also president of the board of directors for the Pella Area Community and Economic Alliance. Putnam also supports Division III athletics serving as the Chair of the Conference Presidents Council of the American Rivers Conference (ARC) and represents the ARC as a member of the NCAA Division III Presidents/Chancellors Advisory Group.
Putnam previously served as senior vice president for executive affairs, chief of staff and chief planning officer at Northeastern University where he filled a succession of leadership roles. He also held key senior administrative positions at Connecticut College, Alliance Theological Seminary, Pace University and Nyack College (all in New York) where he began his career as an admission counselor. He earned a Bachelor of Arts degree in philosophy from Nyack College and Master of Arts, Master of Education and Doctor of Education degrees at Teachers College, Columbia University.