December 2021 Announcements
Posted December 9, 2021
Dear Central College students, faculty and staff,
I couldn't let the semester end without one more message conveying how proud I am of this community.
We've seen exceptional talent and hard work across all parts of campus this semester, from leadership opportunities and remarkable effort in the classroom to moving performances and top-notch competitions. You never cease to amaze me.
We have been so excited to witness the success of our student-athletes this fall! We were well represented with an impressive showing at the NCAA Division III Cross Country Championships. The Central Dutch football team had a magical season and rewrote Central's history and record books many times over. The Central dance team also earned some incredible trophies during the Iowa State Dance and Drill Team Association's State Championships, sweeping all three divisions of the collegiate categories in Division II/III. And 65 of our fall student-athletes were named to the American Rivers Conference all-academic team. Our winter sports are off and rolling as well. Hoo-Rah!
End of Fall Semester
Finals are just around the corner, so study hard, but please be sure to make time for breaks and fun, too. The beloved tradition, Breakfast of Champions, caps Study Day (Monday, Dec. 13) and kicks off finals week. We hope you'll take advantage of the great meal prepared by dining services and served by faculty and staff, because who doesn't love a late-night breakfast!
Staying Healthy
In the past week, the nation and the world has seen a growing number of omicron coronavirus cases. Scientists around the globe are working diligently to evaluate the risks and answer critical questions. Throughout the pandemic, Central has followed advice from public health and medical experts, and the college has maintained low COVID-19 rates. Because of the unknowns right now, I encourage you to get both a COVID-19 and a flu vaccine if you have not already done so. If you are eligible, get a COVID-19 booster. Continue to practice physical distancing and wear a mask when traveling. We'll continue to monitor the situation carefully and, if needed, make any necessary decisions based on the data and scientific information once it becomes available.
Return to Campus and Martin Luther King Jr. Day
In the meantime, we look forward to seeing you after the much-deserved break for our first day of the Spring semester: Jan. 17, which also is Martin Luther King Jr. Day. Classes are not in session on this day as they have been in years past. The day will instead be filled with service projects, conversations, events and educational opportunities for us to learn more about each other and ourselves.
Thank you for having a heart for one another and using this time to open your mind and serve. I believe this opportunity will provide a strong foundation for the Spring semester and further unite this tight-knit community. Specific details and times about the day are forthcoming.
I wish you and your loved ones good tidings and great joy this holiday season and in the new year.
About the Author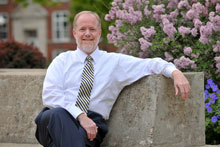 I'm the lucky individual who carries the title, 21st president of Central College in Pella, Iowa. Passionate about higher education and the issues facing it and the world today, I hope to invoke an engaging conversation with all who are ready to dig in, make a difference and build for the future. Share your thoughts. I'm listening and interested.