Fall 2022 Announcements
Posted August 10, 2022
Hey, Dutch!
I hope you enjoyed a fun, restful summer. You all deserved a break from your studies, homework and activities! But know this: all of us at Central College are looking forward to welcoming the Class of 2026 and having our returning students back on campus soon.
While you've been away, the campus hosted various camps, clinics and conferences, multiple visit days and more. Student researchers worked hard studying and completing mind-blowing, relevant projects, and we look forward to learning their results in the coming weeks. In addition, the Central campus community has been working away cleaning, improving and readying the campus for your arrival. Even with the heat, campus is as gorgeous as ever!
The Perks of Pella
In case you're struggling to remember what to do for fun around Pella, we've enlisted the help of Scott Siepker, the "Iowa Nice Guy," to refresh your memory. Watch the video above, on our website or on Central's social media accounts.
Fall Fun
We have a full schedule of events to entice students, faculty, staff, alumni and community members to come together and have fun. Move-In Day. Welcome Week. Homecoming. Performances. Athletics events. In addition, the 2022-23 academic theme is engaged citizenship. Be sure to take advantage of all the experiences a Central education offers.
Enjoy the rest of the summer! I look forward to a new academic year filled with positive momentum and all the learning, relationships, discovery and celebrations that come with it. We'll see you in a few weeks — we can't wait to welcome you home!
See you soon,
President Putnam
About the Author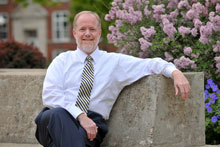 I'm the lucky individual who carries the title, 21st president of Central College in Pella, Iowa. Passionate about higher education and the issues facing it and the world today, I hope to invoke an engaging conversation with all who are ready to dig in, make a difference and build for the future. Share your thoughts. I'm listening and interested.