January 2022 Announcements
Posted January 11, 2022
Dear Central students, faculty and staff,
I hope you all have had a restful winter break full of merriment and good health with family and friends.
A new year brings with it a sense of renewal, transformation, abundance and opportunity. As we begin a new semester next week, I encourage you to apply these sensibilities to your studies, teaching and work. I have no doubt we have yet another successful semester ahead of us.
COVID-19 Prevention
Central continues to be a mask-friendly campus. Just as we asked at the start of the fall semester, please be exceedingly careful during the first two to three weeks when all have returned to campus. Bring your masks to campus and have one available at all times. I encourage you to get both a COVID-19 vaccine and a flu shot if you have not already done so. And, if you are eligible, I encourage you to get a COVID-19 booster. To locate vaccines near you, visit vaccines.gov.
Updated COVID-19 Protocols
As the nation and the world continue to witness the spread of omicron variant cases, Central continues to follow protocols that align with advice from public health and medical experts and our local and regional data. Recently, the Centers for Disease Control and Prevention (CDC) issued new COVID-19 guidelines, which the college will follow.
Those who test positive for COVID-19 will be instructed to isolate for five days. If you have no symptoms or symptoms are resolving, then you will no longer need to isolate but will be asked to wear a mask for five more days when around others.
If you are exposed to COVID-19 and are fully boosted or fully vaccinated with Moderna (within five months), Pfizer (within five months) or Johnson & Johnson (within two months), you will be asked to wear a mask for 10 days around others. If possible, you should get tested for COVID-19 on day five.
If you are exposed to COVID-19 and are not boosted or are outside the recommended timeline for a particular vaccine, you will be asked to quarantine for five days and then mask for five days. If possible, you should get tested for COVID-19 on day five.
Be advised that Central does not have the ability to test all students, faculty and staff after their five-day time period. As always, we will continue to monitor the situation carefully and, if needed, make any further decisions based on data and information once available.
Reporting
All members of campus should continue to report COVID-19 symptoms, exposure, test results, etc., via covid19@central.edu or 641-628-5530.
Martin Luther King Jr. Day
We will begin the semester Monday, Jan. 17. Instead of scheduled courses, students and faculty have designed a day of education and service related to Martin Luther King Jr. Day.
Monday begins with sessions for all via zoom, followed by in person faculty-student seminars, service projects and training opportunities. I encourage students to attend at least one seminar in an area of interest and one in an area that is new. We look forward to seeing everyone Monday while we learn more about each other and the Central community.
To continue our efforts of building a culture of inclusion, we need to do the work — and it takes all of us. Thank you for having a heart for others and serving our campus community.
I am eager to welcome you all back to campus. Here's to a new semester full of success and health.
Mark Putnam
About the Author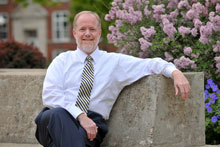 I'm the lucky individual who carries the title, 21st president of Central College in Pella, Iowa. Passionate about higher education and the issues facing it and the world today, I hope to invoke an engaging conversation with all who are ready to dig in, make a difference and build for the future. Share your thoughts. I'm listening and interested.