Welcome Back for Fall 2021
Posted August 4, 2021
Dear Central College community members,
I hope this note finds you enjoying a wonderful summer as you prepare to return to campus in just a few short weeks.
I need to say that again.
It's almost time to return to campus!
It fills my heart to use that phrase as a matter of course again.
And not only are we returning to campus, we also are preparing to resume the full spectrum of in-person academics and campus life activities for Fall 2021 — all the while being prepared to adapt based on evolving health circumstances.
As you ready to come to Pella, read on for some key elements of our return to campus to elevate and protect the health and wellbeing of everyone, keeping in mind this information may need adaptation.
Vaccines
Please consider getting one. While the college does not have a vaccination mandate, we are strongly encouraging everyone to get vaccinated. It's the one thing we can all do to have a heart for others.
Central has joined hundreds of colleges and universities across the nation in the COVID-19 College Vaccine Challenge. The initiative, created in partnership of the White House and the U.S. Department of Education, aims to increase the rate of vaccination among students, faculty and staff on campuses across the country.
Science has demonstrated that vaccinated individuals have a decreased severity of symptoms if exposed. Please find a vaccine clinic near you. As more people are vaccinated on campus, it helps prepare the college for a more typical campus experience.
Central is planning an incentive drawing for members of the community who have received the vaccination. Look for details on the incentive program, which will be provided soon.
COVID-19 Protocols
Central is prepared to reinstate COVID-19 protocols if the situation demands. For the time being, the college remains a mask-friendly campus, and we will respect individual choices to wear or not to wear a mask. Depending on circumstances, we may need to make adjustments for the safety of all.
We remain committed to ensuring our guidance is informed by new or updated recommendations and requirements as well as COVID-19 transmission levels, while knowing the guidance is currently in conflict at the state and federal levels.
As always, please have a heart for others. Be respectful and kind, and please be prepared to adjust in the event it becomes necessary.
Website
We have updated the college's health website and have archived our past COVID-19 response in that space. Please refer to the site for the latest health and wellness information and updates.
Academics
All of Central's academic offerings will be in person this fall.
Athletics
We look forward to a full complement of fall sports resuming in concert with NCAA protocols and requirements.
Events
We have a full schedule of events to entice students, faculty, staff, alumni and community members to participate. Welcome Week. Move In Day. Homecoming. Celebrating Forever Dutch. In addition, the 2021-22 academic theme is responsible citizenship. Be sure to take advantage of all the experiences a Central education offers.
Residence Halls
All residence halls will be open, following policies in place prior to the pandemic.
Support
Many of you have chosen Central because we have a heart for others. It is just as important to have a heart for yourself. Central's student development team is here to help you with your wellness needs on campus. Please contact the student development office at studentdevelopment@central.edu or call 641-628-5293 for help or information.
I look forward to a new academic year filled with curiosity, learning, living, working, discovering and celebrating.
See you on campus soon!
Mark
About the Author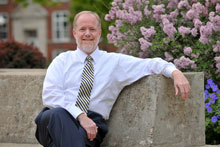 I'm the lucky individual who carries the title, 21st president of Central College in Pella, Iowa. Passionate about higher education and the issues facing it and the world today, I hope to invoke an engaging conversation with all who are ready to dig in, make a difference and build for the future. Share your thoughts. I'm listening and interested.